Those of my read­ers who are famil­iar with my first set of icons, may be pleased to know that I have now released an extend­ed ver­sion. The Hot Pep­per Sil­ver Extend­ed set con­tains four times as many icons as the Basic set, includ­ing the alpha­bet and all sin­gle dig­it numer­als.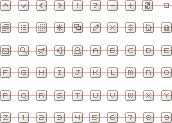 You get four times the num­ber of icons for a lit­tle more than twice the price as the Basic set. And as always, no ship­ping and no tax­es.
I am a copy­writer and copy­ed­i­tor. I blog on writ­ing and social media tips most­ly, but I some­times throw in my thoughts about run­ning a small busi­ness. Fol­low me on Twit­ter at @hotpepper.