Face­book recent­ly updat­ed their news­feed and time­line set­tings so that posts with large images use those large images now instead of a 90×90 thumb­nail. I love this change. It makes posts stand out more on time­lines and news feeds, which is crit­i­cal for get­ting your con­tent to stand out.
Part­nered with this update is the option to upload a dif­fer­ent pho­to when you post a link. This makes it handy when the page you're shar­ing uses an image that's too small.
Here are the tricks I use to make sure posts I share on my clients's Face­book pages use as large an image as pos­si­ble.
Let's use this Globe and Mail news arti­cle about a 12-year-old hack­er. Here's what hap­pens when I just copy and paste the link into the share box on a Face­book page: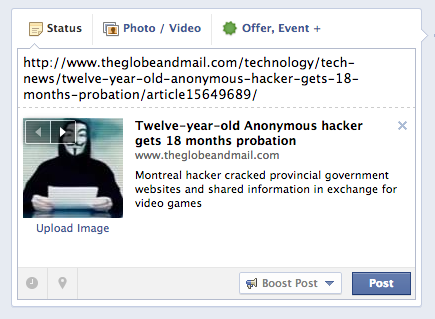 The image on the page I shared is only 220 pix­els wide. Face­book needs the image to be at least 377 pix­els wide in order to use the new for­mat.
Tip #1: click on the image on the page you want to share
Many web­sites will bring up a larg­er ver­sion of sto­ry images you click on. The Globe and Mail is one of them. Here is what hap­pens when I click on the image in the news arti­cle: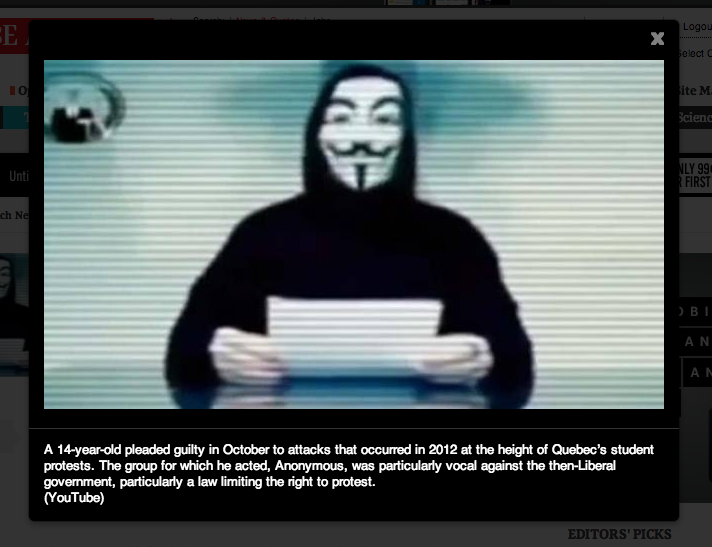 All you need to do is right click the larg­er image and save it to your com­put­er. My brows­er (Google Chrome) allows me to drag images off a web­page and onto my com­put­er. I usu­al­ly use my desk­top because I treat it as a tem­po­rary hold­ing place.
Now that you have your image saved, just click on the Upload Image option in your new Face­book post: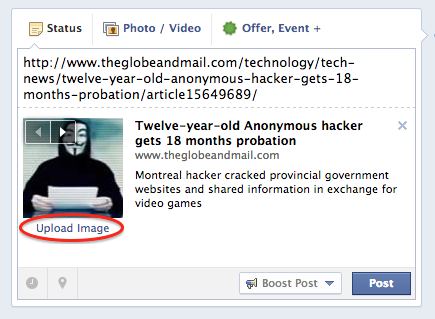 Face­book will give you an option to browse to where you saved your pho­to. Once select­ed, it will replace the thumb­nail with a much larg­er ver­sion. Here is our exam­ple post with the new image: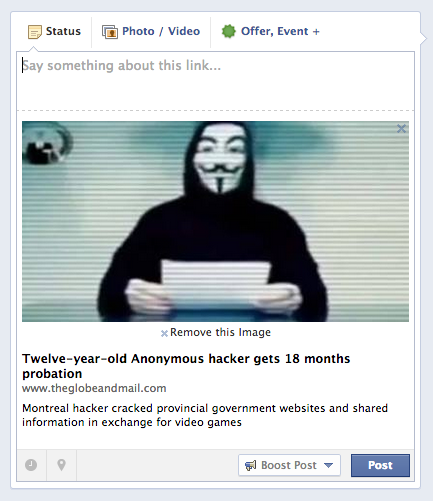 See? Much bet­ter.
Now, what if it's a site that doesn't enlarge their pho­tos when you click on them?
Tip #2: Use Google Images
Let's look at this blog post on Healthy Place about anx­i­ety and Thanks­giv­ing.
Click­ing on the image only pro­vides access to the image itself, but the size is still the same. In this case, it's under 377 pix­els wide.
To get around this (this may only work in Chrome), right click and select "Search Google for this image".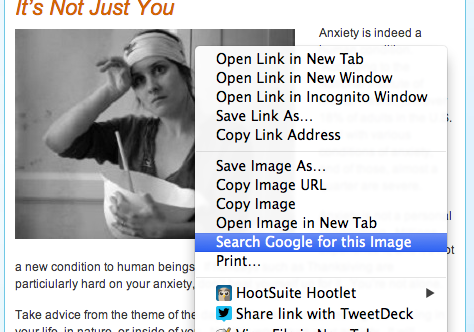 This will bring you to a Google Images page pro­vid­ing you with access to var­i­ous sizes of the image, visu­al­ly sim­i­lar images, and var­i­ous web­pages where the image appears: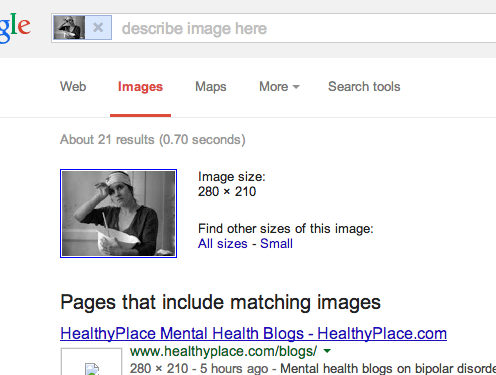 The first thing I do is click on "All sizes". It doesn't help in this case because all the images are the same size, but some­times it has images in there that are over 3000 pix­els wide.
I usu­al­ly skip over "Visu­al­ly sim­i­lar images" because they are rarely what I need.
So, the next thing I do is scroll through all the pages with match­ing images and check for images over 377 pix­els wide. Notice beside each image is the dimen­sion of that image?
In our exam­ple, I find sev­er­al exam­ples on the sec­ond page that are 402×500, so I click on one of them. I get this screen: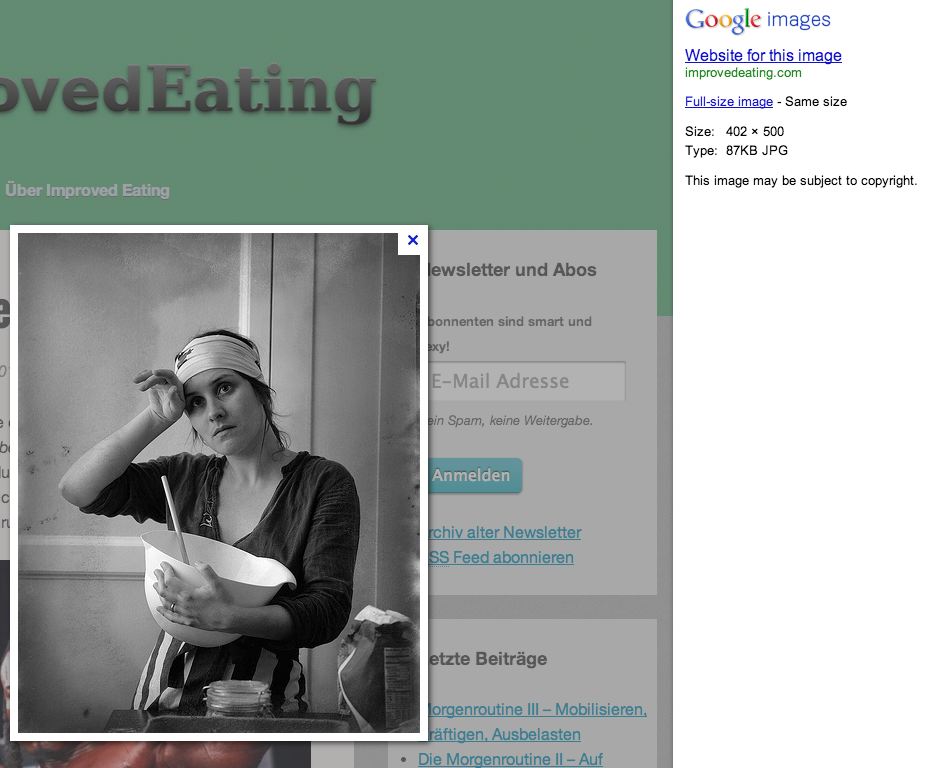 At this point, you can either save the image (right click or drag it). Alter­na­tive­ly, you can click on "Full-size image" to get a bet­ter option. I'm of the opin­ion that when work­ing with images, always start with the best res­o­lu­tion pos­si­ble. This is par­tic­u­lar­ly the case with Facebook's hor­ri­ble image com­pres­sion.
Just to sum­ma­rize, here are my two tips:
Click on the image on the page you want to share
Use Google Images
I hope you find this use­ful.
Dis­claimer: I use these tech­niques only when try­ing to find an image already in use on the image I am shar­ing. I rec­om­mend you do the same. Do not use these tech­niques to infringe on copy­right.
I am a copy­writer and copy­ed­i­tor. I blog on writ­ing tips most­ly, but I some­times throw in my thoughts about run­ning a small busi­ness.
Fol­low me on Twit­ter at @hotpepper.