Today's writ­ing post isn't about writ­ing, or it isn't in the strictest sense. It's about run­ning a writ­ing busi­ness, or more specif­i­cal­ly, run­ning my writ­ing busi­ness.
When I start­ed my busi­ness full-time near­ly a year ago, one of the things I learned quick­ly as client work start­ed com­ing in was that I need­ed a way to keep track of con­tacts, projects, and fol­lowups.
One day, I came across a tech­nique some­one else was using. I don't remem­ber who it was or where I saw it — not that it mat­ters; mine's not exact­ly the same — but it gave me an idea.
Since vir­tu­al­ly all my con­tact with clients is via email, I decid­ed to use built-in GMail fea­tures to orga­nize those con­tacts.
I cre­at­ed a fold­er labelled [Fol­low-up]. Since GMail labels sort alpha­bet­i­cal­ly, the brack­et makes it jump to the top of the label list. I cre­at­ed sub-labels for every week­day. By prepend­ing them with num­bers, I can have them appear to sort chrono­log­i­cal­ly.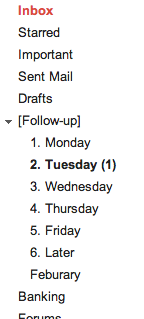 When­ev­er I email (or reply to an email from) a client, I attach one of those 5 labels to the email, then I archive it.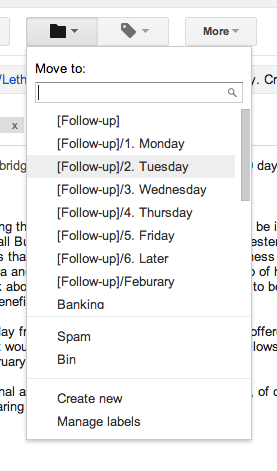 For exam­ple, if I send an edit­ed draft to a client for approval on a Tues­day, I'd label it with Thurs­day or Fri­day, which gives them 2 – 3 days to review it.
Each week­day morn­ing, I open up the label for that day and review the emails list­ed there.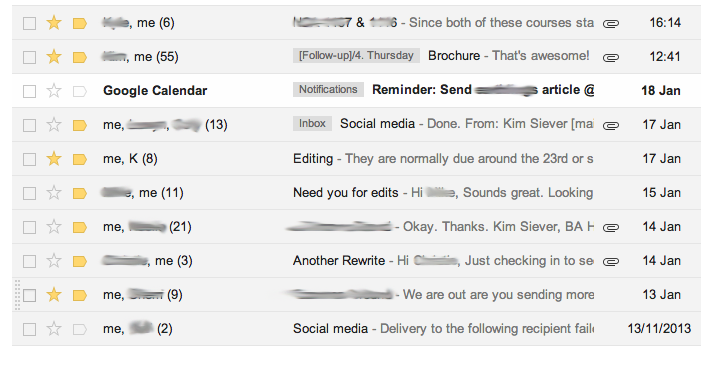 I run through each email and decid­ed what to do with it. I might send a fol­low-up email, then rela­bel it for a few days lat­er. I might review our con­ver­sa­tion for a meet­ing we'll have lat­er that day. I might even decide that the client needs more time to respond, so I'll move it a day or two ahead.
That's it.
After a while, I need­ed to add a cou­ple of oth­er labels. One is "Lat­er" and anoth­er is for the fol­low­ing month. If I send a quote to a poten­tial client, and they ask me to fol­low up in a few months, I'll throw it in the "Lat­er" label. The next month label is for things I need to fol­low up at the first of the fol­low­ing month.
I've been using this method for about 10 months, and it's been a life­saver. It's remind­ed me about projects I'd com­plete­ly for­got­ten about, and it's helped me to keep on top of out­stand­ing invoic­es or quotes.
What's your favourite pro­duc­tiv­i­ty prac­tice?
I am a copy­writer and copy­ed­i­tor. I blog on writ­ing and social media tips most­ly, but I some­times throw in my thoughts about run­ning a small busi­ness. Fol­low me on Twit­ter at @hotpepper.