Peo­ple fre­quent­ly ask me what type of clients I have. To be hon­est, it varies. I have clients from all sorts of indus­tries and who have dif­fer­ent require­ments. I've noticed one thing though that many have in com­mon.
They don't have enough time.
This is espe­cial­ly true with social media man­age­ment. Vir­tu­al­ly all my clients who have come to me with social media needs have told me that they know how impor­tant social media is, but that they don't have the time to man­age it them­selves.
Doing social media right takes time. If you want to do a good job with it, you can't do it in just a few min­utes each day (or even a few min­utes each week), par­tic­u­lar­ly if you have lit­tle expe­ri­ence run­ning a social media account.
Do you find your­self in the same boat? Do you real­ize the impor­tance of social media but don't have the time to devote to doing it right? Con­sid­er hir­ing a social media man­ag­er.
I bring ample social media expe­ri­ence to the table. I have been man­ag­ing social media accounts for 8 years, and I man­age busi­ness accounts that have a com­bined fol­low­er­ship of over 16,000. Plus I can man­age your account in less time than it would take for you to do it your­self.
I spe­cial­ize in organ­ic growth, build­ing fol­low­ers and engage­ment over time through con­tent cura­tion, con­tent cre­ation, and par­tic­i­pat­ing in con­ver­sa­tions. Organ­ic growth takes longer (com­pared to paid fol­low­ers, for exam­ple), but it results in high­er qual­i­ty fol­low­ers who are more engaged.
Take a look at the reach results of a client's Face­book page over the past year.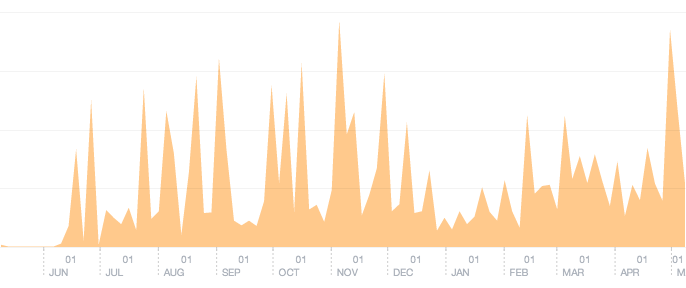 I took over their Face­book page about mid June, which you can see clear­ly. You'll prob­a­bly notice all those spikes; they sim­ply rep­re­sent pop­u­lar con­tent. What I want­ed to point out those is the last three months or so.
What you can see in the graph between mid-Feb­ru­ary and today is that the base­line is start­ing to rise. There's a lot more orange at the base of those spikes and dips, which tells us that the base reach is increas­ing.
This is typ­i­cal of organ­ic reach. It's a slow growth, but once it picks up momen­tum, you can see the dif­fer­ence in inter­ac­tions.
I met with this client last week regard­ing the per­for­mance of their Face­book page, and they had noticed an increase in com­ments and likes recent­ly. When I showed them this chart (and some oth­ers), they were pleased that things have been improv­ing.
Have you run out of time to man­age your social media accounts? Are you inter­est­ed in organ­ic growth in reach, engage­ment, and fol­low­er­ship? Con­tact me today to dis­cuss how I can help you with all of this.
I am a copy­writer and copy­ed­i­tor. I blog on writ­ing and social media tips most­ly, but I some­times throw in my thoughts about run­ning a small busi­ness. Fol­low me on Twit­ter at @hotpepper.