Did you know that Twit­ter has had a key fea­ture for over 5 years now that is cru­cial for man­ag­ing a con­tent stream pop­u­lat­ed by large num­bers of fol­lowed users?
Did you also know that few peo­ple know about — let alone use — this fea­ture? So what is this crit­i­cal fea­ture?
Lists.
The prob­lem with fol­low­ing thou­sands of peo­ple is that your con­tent stream nev­er stops fill­ing up, mak­ing it dif­fi­cult to mon­i­tor con­ver­sa­tions.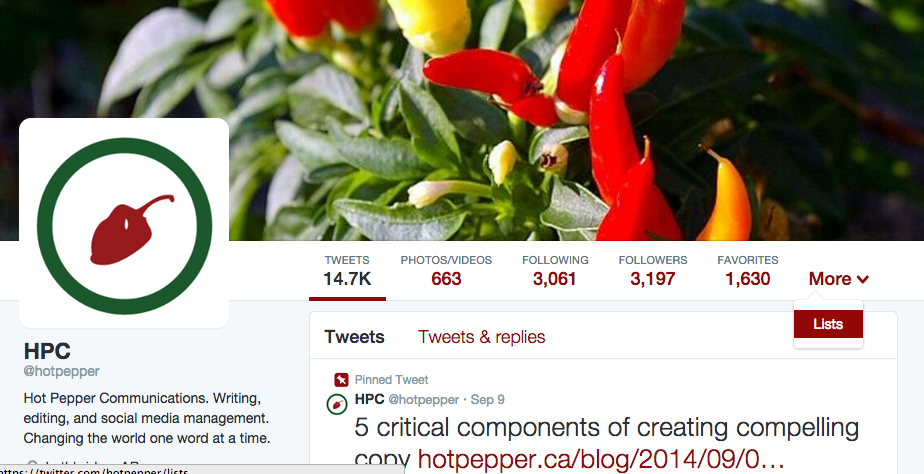 Twit­ter lists allow you to seg­ment the peo­ple you fol­low into cat­e­gories, effec­tive­ly cre­at­ing mul­ti­ple, small­er time­lines.
For exam­ple, I use such lists as edi­tors, writ­ers, social media, and mar­ket­ing for my @hotpepper account. This helps me keep track of spe­cif­ic streams of con­tent as con­ver­sa­tions to respond to and infor­ma­tion to share.
Cre­at­ing a list is pret­ty easy.
1. Bring up the Twit­ter pro­file of some­one you want to fol­low. Click on the gear icon beside the Follow/Following but­ton, and select "Add or remove from lists".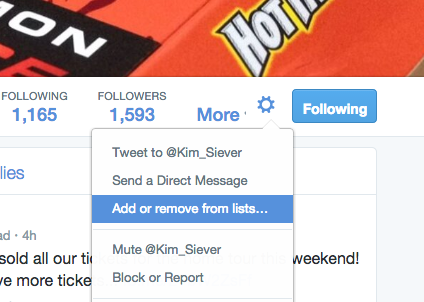 2. Click on the "Cre­ate a list" but­ton at the bot­tom of the pop­up win­dow.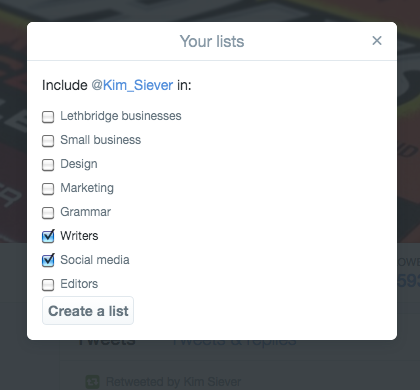 3. Type in the new list's name and descrip­tion, and click on "Save list".
4. You'll be brought back to the list of your lists. The new list will be there, and you can add the per­son to the new list by check­ing the check­box beside the list name. Sim­ple as that.
To access your lists, go to your pro­file page, click on the More drop­down and select "Lists".
Once there, you can click on any of your lists to see the mini Twit­ter feed for that list. They're per­fect for top­ic-spe­cif­ic tweets and will help you curate con­tent and par­tic­i­pate in rel­e­vant con­ver­sa­tions.
Have you used Twit­ter lists? What do you think of them?
I am a copy­writer and copy­ed­i­tor. I blog on writ­ing tips most­ly, but I some­times throw in my thoughts about run­ning a small busi­ness.
Fol­low me on Twit­ter at @hotpepper.