If you have a Face­book busi­ness page, you have prob­a­bly either seen the Face­book Insights tool or have been prompt­ed by Face­book to use it.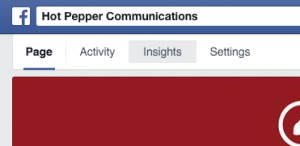 If you haven't seen it yet, this is what it looks like.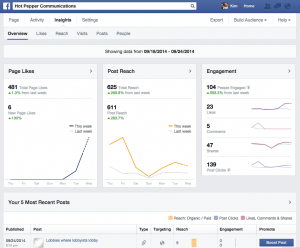 It's a robust and com­pre­hen­sive col­lec­tion of data points and met­rics page own­ers can use to keep track of how their social media con­tent per­forms on Face­book. One of the key met­rics is Post Reach.
Post Reach basi­cal­ly mea­sure how many Face­book users saw your posts. This is an impor­tant met­ric to track because it mea­sure not just peo­ple who like your page, but their friends and their friends' friends.
When you post some­thing on Face­book, sev­er­al things deter­mine how often it shows up on Face­book news feeds.
1. Num­ber of page likes
If your Face­book page has few likes, then your con­tent will show up on very few news feeds. Face­book nev­er shows your con­tent on the news feeds of every­one who likes your page, only a small por­tion of them. My poor­est per­form­ing con­tent shows up on the news feeds of only 1% of those who like my page.
Increase fol­low­ers to increase reach.
2. Time of day
If you post some­thing when most of your Face­book fans are away from their screen, then few peo­ple will see it. Luck­i­ly, Face­book has an Insights option to show you when your page fans are more like­ly to be on Face­book.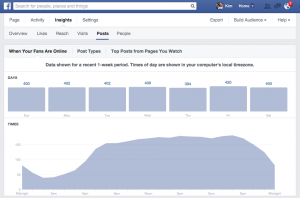 Just click on "Posts" at the top of the page. Here, you can see my fans are on Face­book fair­ly con­sis­tent­ly between 8:00 and 21:00.
Post dur­ing pop­u­lar times of the day to increase reach.
3. Con­tent inter­ac­tions
Each time one of your page fans likes or com­ments on your con­tent, it shows up in the news feeds of some of their friends, indi­cat­ing that they liked or com­ment­ed on the post. Same goes for shares, but that is prob­a­bly more obvi­ous.
Pro­duce con­tent that encour­ages likes, com­ments, and shares to increase reach.
4. Viral con­tent
The more likes, com­ments, and shares your con­tent receives, the more viral Face­book will rate it. The more viral your con­tent becomes, the high­er the pro­por­tion of Face­book users who will see the con­tent. Where con­tent that has no likes might reach only 1% of your page fans, viral con­tent could reach all of your fans and even num­bers that bypass your total page likes.
Pro­duce viral con­tent to increase reach.
Face­book reach is a crit­i­cal com­po­nent of any Face­book page mon­i­tor­ing. Know­ing what affects it will help you use it to your advan­tage. How have you increased your page's Face­book reach?
I am a copy­writer and copy­ed­i­tor. I blog on writ­ing tips most­ly, but I some­times throw in my thoughts about run­ning a small busi­ness. Fol­low me on Twit­ter at @hotpepper.