This sum­mer, one of the exec­u­tives at a com­pa­ny that's been a client of mine for sev­er­al years ques­tioned the wis­dom in hav­ing a com­pa­ny blog. He thought it was dri­ving very lit­tle traf­fic to the main web­site and that it was receiv­ing few vis­its itself.
I hopped onto Google Ana­lyt­ics, and I dis­cov­ered a few things. Here's a screen­shot of all the refer­rers to my client's site dur­ing a 30-day peri­od this sum­mer: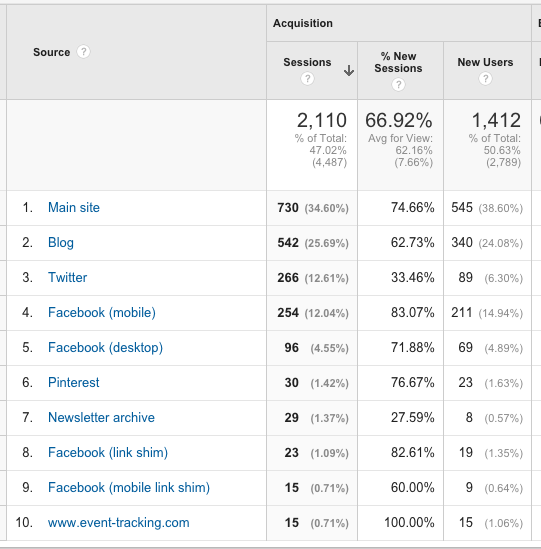 First of all, the Twit­ter links are almost exclu­sive­ly links to blog posts, since I use the Tweet­i­ly word­press plu­g­in to tweet out from their 350+ blog posts at reg­u­lar inter­vals.
What we see then is that the blog actu­al­ly accounts for 38% of the refer­ral traf­fic to the main web­site. In fact, it's the most pop­u­lar refer­rer of traf­fic to the site, beat­ing out even inter­nal refer­ring links. The blog also accounts for 30% of new users, the sec­ond largest source, after the main site itself.
Notice also that Face­book, Pin­ter­est, and the company's newslet­ter archive — all of which I man­age — are the next most pop­u­lar sources of traf­fic to the main site. I should point out that while the newslet­ter traf­fic seems low, this is for archive traf­fic only. It doesn't include email traf­fic, which is actu­al­ly includ­ed in the "Blog" traf­fic, since the newslet­ter is designed to dri­ve traf­fic to the blog.
Com­bined, all the inbound mar­ket­ing I pro­vide for the client accounts for 65% of all their web­site traf­fic and 60% of all their new users. Clear­ly, my inbound mar­ket­ing efforts are pay­ing off (at least by the mea­sure­ment of dri­ving traf­fic to the com­pa­ny web­site).
In case you're won­der­ing, this client invest­ed in my Traf­fic Dri­ver Picoso and Social Media Picoso pack­ages, both of which are designed to increase engage­ment and pro­vide a bet­ter val­ue for your dol­lar.
So how did I do it?
I pub­lish two blog posts every week using attrac­tive titles and on top­ics I know the tar­get mar­ket is look­ing for. This cre­ates fresh con­tent to draw peo­ple to the blog and increas­es the blog's SEO because it has organ­ic text rich with key­words relat­ed to the client's indus­try. I com­bine that with shar­ing the blog posts on social media (their accounts total over 45,000 fol­low­ers) and through the biweek­ly newslet­ter, which in the last 4 years has grown to over 7,000 sub­scribers.
If you're inter­est­ed in dri­ving more traf­fic to your web­site, ask me about my traf­fic dri­ver and social media pack­ages.
I am a copy­writer and copy­ed­i­tor. I blog on writ­ing and social media tips most­ly, but I some­times throw in my thoughts about run­ning a small busi­ness. Fol­low me on Twit­ter at @hotpepper.