Ear­li­er this month, one of my clients asked me to stop post­ing con­tent on their Face­book page. I went from post­ing 6 – 7 pieces of con­tent per day to post­ing noth­ing. And the client's total page likes are in the thou­sands.
The mora­to­ri­um last­ed for less than a week, but when I saw the drop in reach on their page, I thought the expe­ri­ence could serve as a good reminder of why we should post new con­tent on our Face­book pages.
Here's a snap­shot of the reach for my client's Face­book page over the last month or so: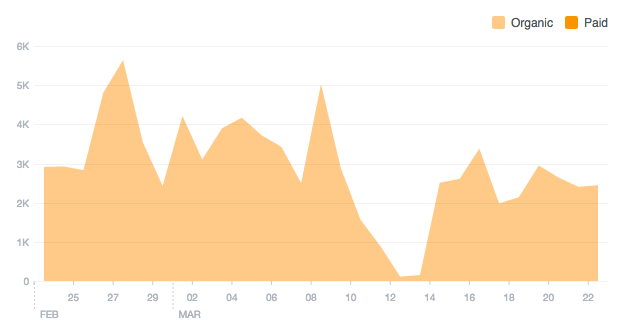 1. Drastic drop in reach
The mora­to­ri­um was issued on the 8th, right at the peak you can see in the mid­dle of the graph. The fol­low­ing day, reach was cut in half. In fact, it halved every day for 3 days. On the fourth day, it had dropped from the rough­ly 5,000 reach on the 8th to only 100 on the 12th, its low­est point.
2. Slow recovery in reach
You can see that on the 14th, the client removed the mora­to­ri­um, and I began post­ing con­tent again. How­ev­er, you'll also notice that in the 8 days that I've been post­ing fresh con­tent again, reach is low­er over­all than it was pri­or to the mora­to­ri­um. In fact, the aver­age dai­ly reach pre-mora­to­ri­um was 3,568, com­pared to 2,583 post-mora­to­ri­um, a drop of near­ly 1,000.
3. Drop in engagement
Unsur­pris­ing­ly, as reach dropped, so did engage­ment. In this exam­ple, the 12th saw 0 reac­tions, 1 com­ment, and 1 share. Pre-mora­to­ri­um, aver­age dai­ly reac­tions sat at 122, aver­age dai­ly com­ments at 13, and aver­age dai­ly shares at 42. Post mora­to­ri­um, engage­ment hasn't ful­ly recov­ered: reac­tions are at 84, com­ments at 8, and shares at 26.
So what can we learn from this?
Well, it's anec­do­tal, but the expe­ri­ence does show that not keep­ing up with fresh con­tent may result with no one see­ing your con­tent, and as a result, no one engag­ing with your con­tent. Once you reach a point where you receive sig­nif­i­cant engage­ment, weigh the risks of los­ing all that reach and engage­ment before decid­ing to dras­ti­cal­ly alter your pub­li­ca­tion sched­ule.
Post­ing fresh con­tent reg­u­lar­ly is a key com­po­nent of any suc­cess­ful social media strat­e­gy.
I am a copy­writer and copy­ed­i­tor. I blog on writ­ing tips most­ly, but I some­times throw in my thoughts about run­ning a small busi­ness.
Fol­low me on Twit­ter at @hotpepper.