Every so often, I get a friend request from a busi­ness. Face­book cre­at­ed Pages specif­i­cal­ly as a way for busi­ness­es to con­nect with peo­ple, so there's no rea­son to have to set up a per­son­al pro­file for your busi­ness.
If you haven't set up a pro­file for your busi­ness, check out my post on how to cre­ate a brand new page for your busi­ness. If you have cre­at­ed a pro­file for your busi­ness, fol­low these steps to con­vert it into a page.
20 reasons to convert your Facebook profile to a page
Not only is there no rea­son to have to set up a per­son­al pro­file for your busi­ness, there are at least 20 rea­sons to use a busi­ness page instead.
More than one per­son can man­age the page
Your page man­agers don't need to remem­ber a pass­word
Ana­lyt­ics
You can have more than 5,000 "friends" (or likes if you will)
Face­book tabs
Face­book offers
Adver­tise your posts
Assign var­i­ous admin roles, lim­it­ing capa­bil­i­ties
Sched­ule your posts
It's ille­gal (well, okay, against Facebook's

TOS

)
Install apps
Cus­tomers can check in on Face­book when they vis­it your loca­tion
Cus­tomers using the mobile app can phone you direct­ly through Face­book
Search engine results
Peo­ple don't have to be a friend to tag your page in their updates and pho­tos
Peo­ple won't take your social media efforts seri­ous­ly
Your con­tent is more share­able
You can't use Face­book like but­tons on your web­site
Access to Graph Search traf­fic
Cus­tomers don't need to wait for you to approve their friend request.
Note espe­cial­ly #10. Using a per­son­al pro­file as a busi­ness page is against Facebook's terms of ser­vice and could get your pro­file shut down.
How to convert your Facebook profile into a page
Hope­ful­ly, that list will con­vince you to switch your pro­file to a page. If you're ready, sim­ply set aside a few min­utes to fol­low these 5 easy steps.
1. Archive all your profile data.
Click on the drop down icon in the top right cor­ner of the page. Then click on Set­tings.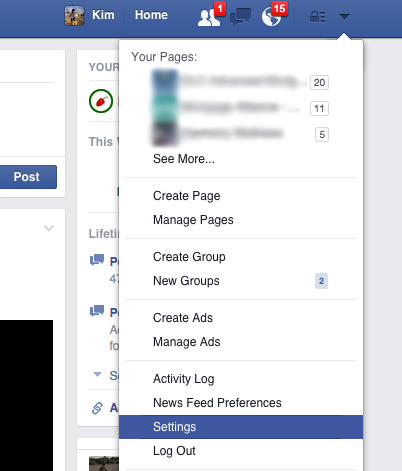 Click on the Gen­er­al tab in the left col­umn. Click on the Down­load a copy link at the bot­tom of the right col­umn.
Click on the Start My Archive but­ton.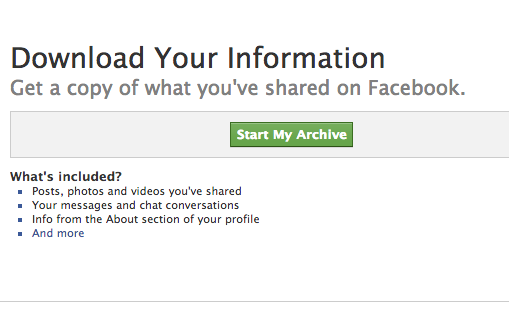 Enter your Face­book pass­word.
Click on the Start My Archive but­ton.

Face­book will email you a link to down­load your archive file.
2. Create admins for all your other pages and your groups.
By con­vert­ing this account to a page, it will lose any admin access it has to any groups or oth­er pages. Be sure you assign some­one else as full admin­is­tra­tors before you con­tin­ue with this process. Oth­er­wise, you will not be able to man­age those groups or pages.
3. Choose your category.
Go to the migrate page. Choose a cat­e­go­ry that best fits your busi­ness.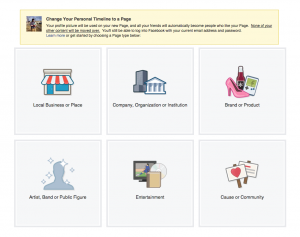 Face­book will ask you to enter your pass­word. Enter it, then click Con­firm.
4. Pick a photo
Next, choose your pro­file pic­ture. (You could just keep the one you had been using.)
5. Fill out the about section
Enter a brief descrip­tion in the About sec­tion. Click on the Save Info but­ton.
That's it! All your friends will auto­mat­i­cal­ly like your page. You will need to go through your archive file to find pho­tos and oth­er items to add to your page.
As you can see, hav­ing a Face­book page is a much bet­ter strat­e­gy in the long run. If you have any ques­tions about start­ing (or con­vert­ing to) a Face­book page, let me know in the com­ments below.
Don't for­get to check out There­sa Potratz's post on the top­ic.
I am a copy­writer and copy­ed­i­tor. I blog on writ­ing tips most­ly, but I some­times throw in my thoughts about run­ning a small busi­ness.
Fol­low me on Twit­ter at @hotpepper.