Have you ever come across the word "busy­ness" and thought that it looked wrong?
Actu­al­ly, "busy­ness" is a real word. In fact, it's been around for over three cen­turies. At least. One of the ear­li­est writ­ten exam­ples of the word is found in a 1782 let­ter writ­ten by Edward Gib­bon, the Eng­lish his­to­ri­an, writer, and politi­cian:
I am sat­is­fied that Bath is very pleas­ant in the months of May and June, and you may be assured that I will come down, as soon as our fate is deter­mined and the busy­ness of par­lia­ment has begun to sub­side.
There are some exam­ples that date back even fur­ther.
Memo­ri­als Of Affairs of State In The Reigns of Q. Eliz­a­beth and K. James I., 1725
The Queen doth for­bear to take any Res­o­lu­tion in that Busy­ness till the Arrivall of the Prince of Condé in Court
An essay upon the neces­si­ty and excel­len­cy of edu­ca­tion by Lewis Maid­well, 1705
We are born Con­fæder­ats, mutu­aly to help One anoth­er, there­fore appro­pri­at­ed in the Body Politic, to this, or that busy­ness, as our Mem­bers are in the Nat­ur­al to per­form their sep­a­rat Offices
Min­utes of the Exec­u­tive Coun­cil of the Province of New York, 1668
when all Par­tyes were here at y' last Assizes, where the whole Busy­ness might thorow­ly have been scann'd, but to lett it sleep all that time
We can also see that the word "busy­ness" has been increas­ing in pop­u­lar­i­ty since the mid-19th cen­tu­ry, at least in the writ­ten word: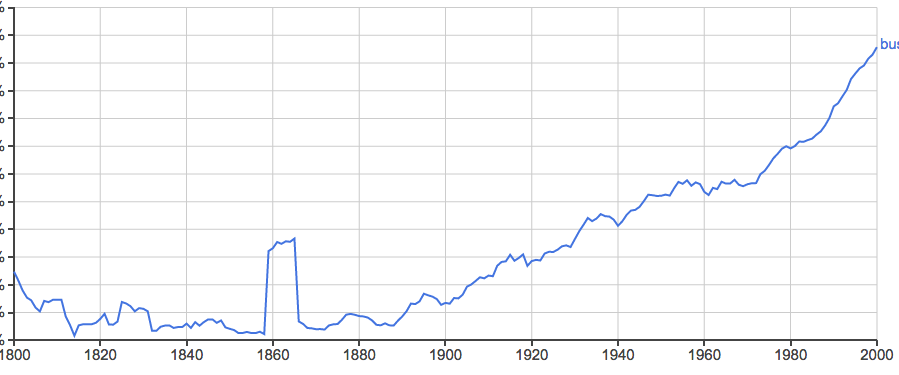 So, what does "busy­ness" mean now? Well, it means the state of being busy. We use it when we want to talk about the phe­nom­e­non of being busy. And It's no sur­prise its usage is increas­ing giv­en our society's propen­si­ty to glo­ri­fy being busy.
At one point, "busi­ness" meant what "busy­ness" does today. But lan­guage evolves, and when "busi­ness" came to mean some­thing else, "busy­ness" came to the res­cue.
I am a copy­writer and copy­ed­i­tor. I blog on writ­ing tips most­ly, but I some­times throw in my thoughts about run­ning a small busi­ness.
Fol­low me on Twit­ter at @hotpepper.