I have a lot of Twit­ter fol­low­ers. As a result, I fol­low a lot of peo­ple on Twit­ter. And that's just on my own Twit­ter account. I man­age sev­er­al client Twit­ter accounts, too. One thing you notice when you fol­low a lot peo­ple is that peo­ple love their auto DMs.
Auto DMs are auto­mat­ed direct mes­sages. Twit­ter users take advan­tage of soft­ware designed to per­form cer­tain actions when trig­gered by oth­er actions. For exam­ple, send­ing out prewrit­ten direct mes­sage each time some­one new fol­lows you.
Auto DMs seem like a great way to engage when you're short on time. In real­i­ty, they — and I chose this word care­ful­ly — suck. And Twit­ter needs to clamp down on them. Here are 3 rea­sons why:
They're spam.
Most Twit­ter users con­sid­er auto DMs to be the Twit­ter ver­sion of spam. In fact, For­rester Research con­duct­ed a sur­vey a few years ago that showed rough­ly 3 out 4 peo­ple hate auto DMs and only 2 in 100 find val­ue in them.
They're impersonal.
You can't cus­tomize auto­mat­ed Twit­ter direct mes­sages. The best you can do is parse out the Twit­ter name if it's sep­a­rat­ed by a space and assume the first val­ue is the person's first name. With my account though (Hot Pep­per Comm.), it just ends up as "Hi Hot, thanks for fol­low­ing me…"
They're unengaging,
Despite what some peo­ple think, auto DMs aren't engag­ing. Response rates to them are low. Take this auto DM I received ear­li­er this week on my Twit­ter account.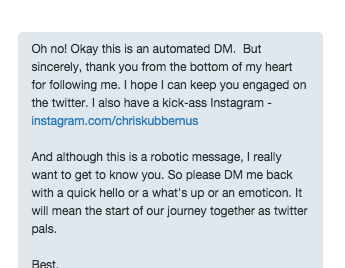 The irony in this auto DM is that the sender used an auto­mat­ed mes­sage to feign sin­cer­i­ty. Regard­less, rather than send­ing the new fol­low­er a pub­lic tweet thank­ing them and per­haps even com­ment­ing on one of their tweets or retweet­ing one, this per­son took the easy yet unen­gag­ing way out.
As auto DMs increase and Twit­ter con­tin­ues to ignore the prob­lem, seri­ous Twit­ter users will sim­ply ignore DMs alto­geth­er just to avoid hav­ing to take the time to wade through all the DM spam on the off chance one of them might be ille­git­i­mate. At some point, the effort it takes out­weighs the ben­e­fit received.
Take this tweet from Chica­go-based Uni­ty Brand Agency, for exam­ple:
So, Twit­ter, if you're lis­ten­ing: please do some­thing about auto DMs.
I am a copy­writer and copy­ed­i­tor. I blog on writ­ing and social media tips most­ly, but I some­times throw in my thoughts about run­ning a small busi­ness. Fol­low me on Twit­ter at @hotpepper.