I signed on a new social media client 6 months ago, man­ag­ing their Face­book page. I was review­ing their page stats to com­pare what engage­ment was like on their page for the last 6 months and what it was like for the pre­vi­ous 6 months.
Reach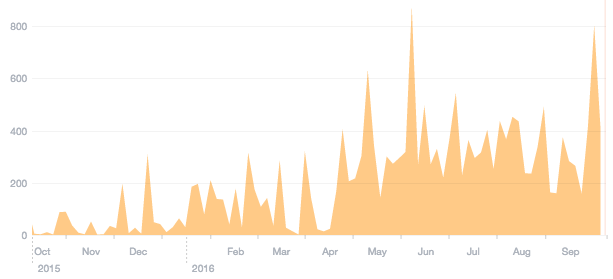 This graph shows the reach of the client's Face­book posts over the last year. The right half has been while I have been man­ag­ing the page, and the left half was before I start­ed man­ag­ing the page.
Obvi­ous­ly, the max­i­mum reach points over the last 6 months are greater than the high points dur­ing the first 6 months. Not only that, but many of the min­i­mum reach points since I've been man­ag­ing the page are also high­er than the pre­vi­ous max­i­mum reach points. In fact, in the pre­vi­ous 6 months, there were peri­ods where their con­tent saw no reach at all.
For com­par­i­son, the aver­age dai­ly post reach over the last 6 months was 328; the aver­age dai­ly post reach for the pre­vi­ous 6 months was 82.
Engagement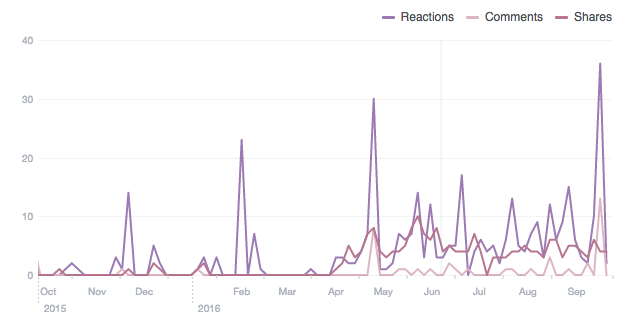 This graph mea­sures reac­tions, com­ments, and shares over the same peri­od, and we a sim­i­lar pat­tern: low engage­ment in the first half of the year and greater engage­ment in the last half of the year. Pre­vi­ous­ly, they rarely received com­ments and shares; now, they reg­u­lar­ly receive them. As well, they have nev­er had a peri­od with no reac­tions on their posts since I took over, and only a sin­gle point where there were no shares.
Room for growth
Obvi­ous­ly there is still a lot of room for growth. Com­ments are quite low even thought they are high­er. Even shares aren't that high either. But then again, I've been at it for only 6 months. I focus on organ­ic growth; It's slow­er, but it results in bet­ter long-term engage­ment with your fol­low­ers.
How I did it
I took a 3-pronged approach:
I increased the num­ber of pages they fol­lowed to cre­ate a larg­er cura­tion pool.
I inter­act­ed with con­tent on those pages.
I shared con­tent from those pages (2 – 3 posts per day).
By increas­ing my cura­tion pool, it gave me a greater selec­tion of con­tent to choose from to share on their page. By shar­ing con­tent and lik­ing and com­ment­ing on that con­tent on oth­ers' pages, it encour­aged them to inter­act with and share con­tent from my client's Face­book page. By shar­ing sev­er­al posts per day, it increased the num­ber of news feeds on which their con­tent would appear.
What tricks do you use to increase Face­book reach on your com­pa­ny page? Let me know in the com­ments below.
I am a copy­writer and copy­ed­i­tor. I blog on writ­ing and social media tips most­ly, but I some­times throw in my thoughts about run­ning a small busi­ness. Fol­low me on Twit­ter at @hotpepper.