This is part of the dif­fer­ence between series.
Recent­ly, I came across the fol­low­ing Twit­ter exchange, which high­light­ed an inter­est­ing phe­nom­e­non: appar­ent­ly every­one doesn't spell whoa like I do:

In response to a tweet some­one men­tioned them in, ACLU sent the fol­low­ing tweet:
In it, they spelled whoa as woah. Then a Twit­ter user called them on it.
This appar­ent­ly took ACLU by sur­prise, assum­ing that every­one mis­spelled whoa like they did. To deal with their new­found cog­ni­tive dis­so­nance, they reached out to Mer­ri­am Web­ster for clar­i­fi­ca­tion:
Mer­ri­am Web­ster respond­ed by say­ing that they're in the wrong:
Okay, well, sort of wrong.
So this isn't going to be one of my typ­i­cal Dif­fer­ence between posts. While woah is a mis­spelling of whoa, there is some­thing inter­est­ing at work. Take a look at the print­ed use of whoa and woah over the last 200 years:

Whoa clear­ly is the more pop­u­lar usage. But notice the slight uptick for woah. Let's iso­late that, so we can see it more clear­ly:
This is where things get a bit inter­est­ing. Since about the 1970s, the mis­spelled woah seems to have expe­ri­enced an ongo­ing rise in pop­u­lar­i­ty. Keep in mind that this is the appear­ance of woah in print form. How­ev­er, a quick Google News search for woah brings up over 100,000 results. Clear­ly, woah is gain­ing in pop­u­lar­i­ty. But there's some­thing else:
As Twit­ter user Kevin Fox point­ed out, there's anoth­er trend at work. Check out this Google Trends screen­shot: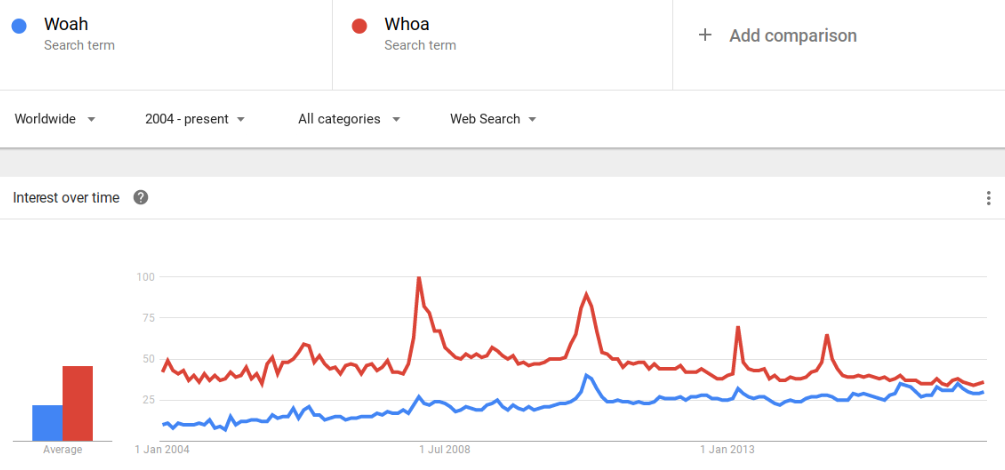 Google Trends allows you to com­pare search queries. Here we see that not only has woah been increas­ing in usage over the last 13 years, but (sur­pris­ing­ly!) the cor­rect spelling—whoa—is actu­al­ly declin­ing in usage, and has been for about 8 years.
If we take all this infor­ma­tion togeth­er, we may be wit­ness­ing the emer­gence of a legit­i­mate vari­ant spelling of whoa. Now, none of the dic­tio­nar­ies I con­sult­ed list woah as a vari­ant spelling of whoa, so it may be a while before it attains wide­spread accep­tance, but if the trends con­tin­ue, this may be some­thing that hap­pens.
As Matthew J.X. Mal­a­dy stat­ed, "In this high­ly tex­tu­al age, the typos of today can become the vari­ant spellings of the future." Only time will tell.