The weath­er is heat­ing up, and it won't be long before every­one is talk­ing about how hot it is where they live. As they do, many social media posts are going to be miss­ing some­thing.
The degree sym­bol.
Peo­ple are going to write things like, "It's 26 out" or "It's 26C out".
The prop­er way to write tem­per­a­ture would be "It's 26º C out." But how do you cre­ate the degree sym­bol? It's not on the key­board. I already have arti­cles I've writ­ten for writ­ing the degree sym­bol on the Mac and PC, as well as how to make the degree sym­bol on the Chrome­book.
But what about on an iPhone (or any smart phone)?
Well, unlike Macs, PCs, or Chrome­books, you can't do a key com­bi­na­tion on an iPhone. What you can do, how­ev­er, is access the extra char­ac­ters by hold­ing down cer­tain keys. For exam­ple, look what hap­pens when we hold down the 0 key on an iPhone: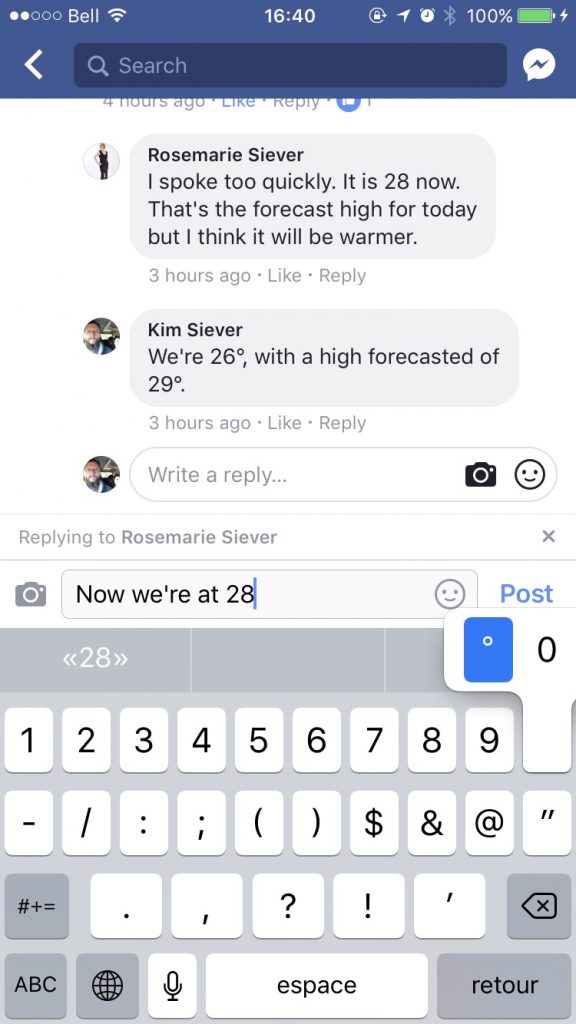 The 0 key expands to offer you not only the 0, but a degree sym­bol as well. While hold­ing down the 0 key, slide your fin­ger to the degree sym­bol, then let go. You've insert­ed your first degree sym­bol using an iPhone.
While you're at it, check out some of the oth­er keys to see what extra sym­bols you have on your iPhone. Let us know in the com­ments below if you found this tip use­ful.
I am a copy­writer and copy­ed­i­tor. I blog on writ­ing tips most­ly, but I some­times throw in my thoughts about run­ning a small busi­ness. Fol­low me on Twit­ter at @hotpepper.