One of the things I love about Face­book is being able to tag friends.
The Tag Friends button
You might already be famil­iar with the tag­ging fea­ture built into the sta­tus update box: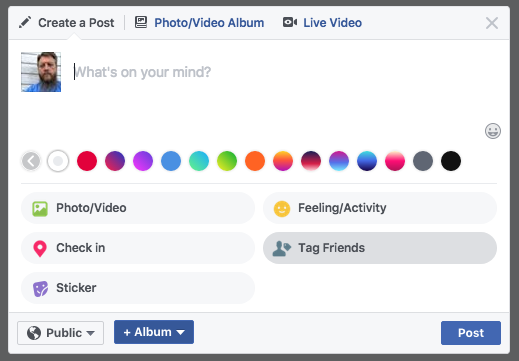 When you click on "Tag Friends", a bar appears with the word "With" in it: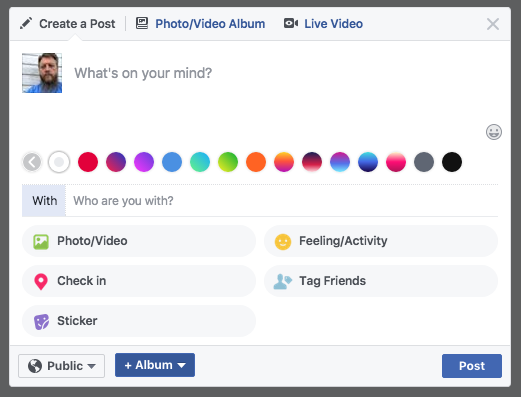 Just start typ­ing someone's name in that bar, and a menu appears with a list of peo­ple whose names con­tain the let­ter com­bi­na­tions you're enter­ing. For exam­ple, if I type "Mary", sev­er­al friends with the name Mary appear (trun­cat­ed for pri­va­cy):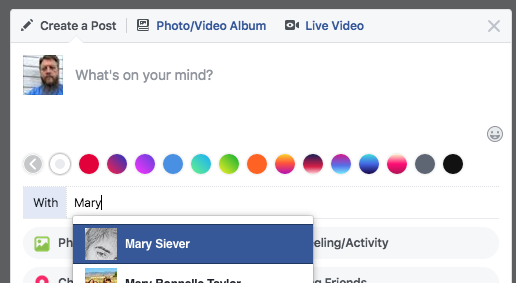 Once you select the person's name, this is how it looks: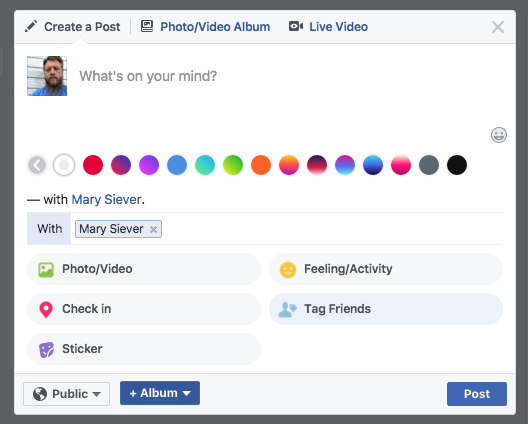 And of course, you can tag more than one per­son.
This method is great for announce­ments, rem­i­nisc­ing, joint activ­i­ties, or oth­er occa­sions when you want to include some­one but you don't nec­es­sar­i­ly need to include them by name in the actu­al text you write.
Tagging them directly in the post.
How­ev­er, you don't need to always use the "Tag Friends" but­ton. Face­book allows you to tag just by typ­ing the person's name in the text. You can even just use their first name by press­ing the back­space once their name is tagged, like this: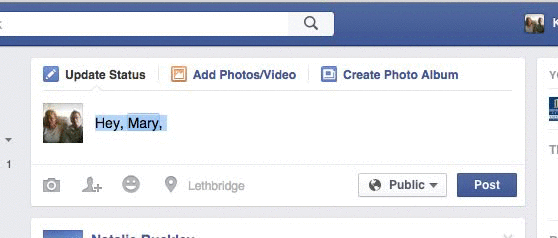 Tagging them in comments
But that is for sta­tus updates. You can tag peo­ple in com­ments, too. Just do the same thing: type their name in the com­ment, and you should be able to tag them.
But what if you want to tag some­one who isn't your friend, say some­one you want to reply to in a thread on the Face­book page of a local news sto­ry?
Well, you do it the way you used to have to use to tag any­one on Face­book (and how you still do it on Twit­ter): with the @ sym­bol.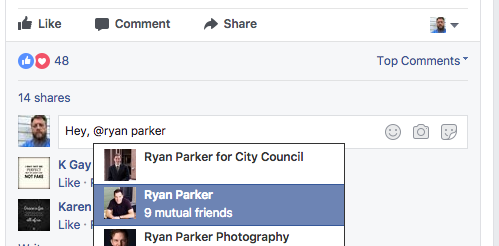 In the above image, I'm tag­ging one of our local city coun­cil­lors, who I don't have added as a Face­book friend. Just type the @ sym­bol, and start typ­ing their name. A menu will appear, sim­i­lar to the exam­ples above, and you can select the per­son you want.
Tag­ging peo­ple is use­ful for a cou­ple of rea­sons: the per­son you tag receives a noti­fi­ca­tion of the tag, and on a pub­lic post, their friends may see your com­ment, too.
Now, there is a bit of a dis­claimer. If some­one has pret­ty strict pri­va­cy set­tings, you may not be able to tag them. Don't wor­ry too much if you can't tag them; it may not be because you're doing it wrong.
Do you have any tricks for tag­ging peo­ple on Face­book? Let me know in the com­ments below.
I am a copy­writer and copy­ed­i­tor. I blog on writ­ing tips most­ly, but I some­times throw in my thoughts about run­ning a small busi­ness.
Fol­low me on Twit­ter at @hotpepper.