One of the things I love about Facebook is being able to tag friends.
The Tag Friends button
You might already be familiar with the tagging feature built into the status update box: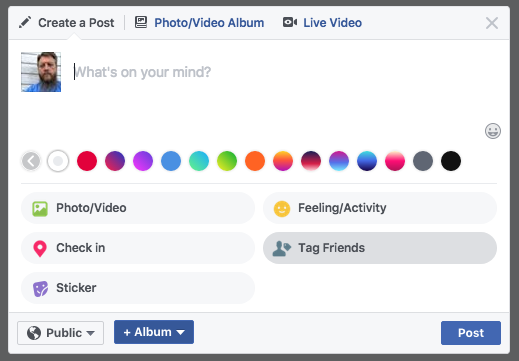 When you click on "Tag Friends", a bar appears with the word "With" in it: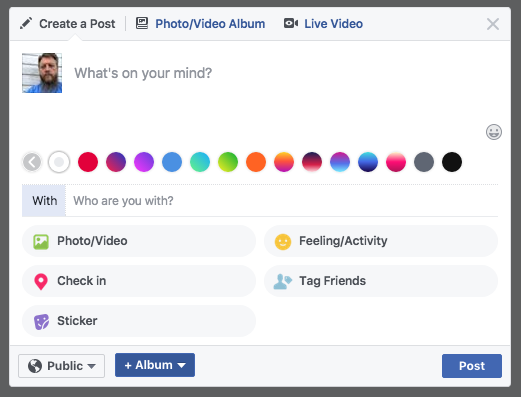 Just start typing someone's name in that bar, and a menu appears with a list of people whose names contain the letter combinations you're entering. For example, if I type "Mary", several friends with the name Mary appear (truncated for privacy):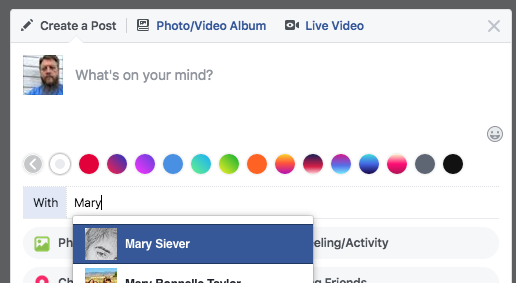 Once you select the person's name, this is how it looks: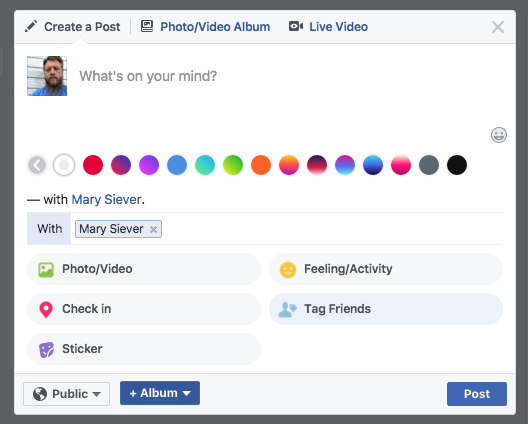 And of course, you can tag more than one person.
This method is great for announcements, reminiscing, joint activities, or other occasions when you want to include someone but you don't necessarily need to include them by name in the actual text you write.
Tagging them directly in the post.
However, you don't need to always use the "Tag Friends" button. Facebook allows you to tag just by typing the person's name in the text. You can even just use their first name by pressing the backspace once their name is tagged, like this: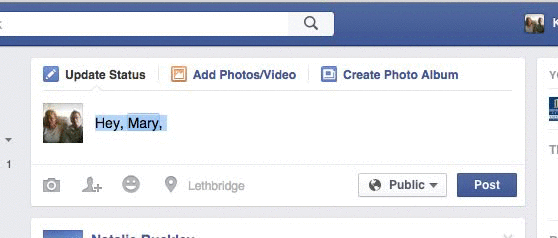 Tagging them in comments
But that is for status updates. You can tag people in comments, too. Just do the same thing: type their name in the comment, and you should be able to tag them.
But what if you want to tag someone who isn't your friend, say someone you want to reply to in a thread on the Facebook page of a local news story?
Well, you do it the way you used to have to use to tag anyone on Facebook (and how you still do it on Twitter): with the @ symbol.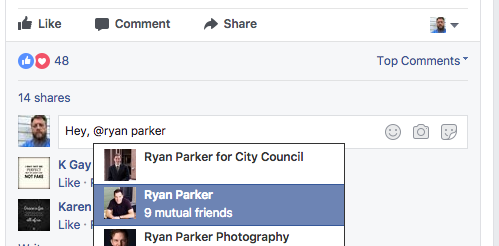 In the above image, I'm tagging one of our local city councillors, who I don't have added as a Facebook friend. Just type the @ symbol, and start typing their name. A menu will appear, similar to the examples above, and you can select the person you want.
Tagging people is useful for a couple of reasons: the person you tag receives a notification of the tag, and on a public post, their friends may see your comment, too.
Now, there is a bit of a disclaimer. If someone has pretty strict privacy settings, you may not be able to tag them. Don't worry too much if you can't tag them; it may not be because you're doing it wrong.
Do you have any tricks for tagging people on Facebook? Let me know in the comments below.
I am a copywriter and copyeditor. I blog on writing tips mostly, but I sometimes throw in my thoughts about running a small business. Follow me on Twitter at @hotpepper.