This is part of the dif­fer­ence between series.
If you use the word whole in a sen­tence (such as, "I count­ed the whole crowd."), chances are Microsoft Word will sug­gest that you change it for entire.
There isn't much dif­fer­ence between whole and entire. In fact, sev­er­al dic­tio­nar­ies have whole and entire as syn­onyms of each oth­er — that's how close they are in def­i­n­i­tion. What dif­fer­ences there are between the two are sub­tle.
For exam­ple, con­sid­er these two quotes by Mer­ri­am Web­ster:
When refer­ring to the idea of not lack­ing:
Whole sug­gests a com­plete­ness or per­fec­tion that can be sought, gained, or regained. Entire implies per­fec­tion deriv­ing from integri­ty, sound­ness, or com­plete­ness of a thing.
Now that I'm back from my week-long vaca­tion, I feel whole again.
That teen prodi­gy can play the entire Beethoven cor­pus.
When refer­ring to the idea of includ­ing every­thing or every­one with­out excep­tion:
Whole implies that noth­ing has been omit­ted, ignored, abat­ed, or tak­en away. Entire may sug­gest a state of com­plete­ness or per­fec­tion to which noth­ing can be added.
I read the entire Har­ry Pot­ter series.
The entire pop­u­la­tion of Leth­bridge was wiped out by the aster­oid.
The dif­fer­ences don't seem all that pro­nounced, do they? Well, I did tell you that the dif­fer­ences were sub­tle. While the dif­fer­ences do exist, I think they are too sub­tle for every­day con­ver­sa­tion.
Con­sid­er the usage of both whole and entire as search terms (blue and red, respec­tive­ly) over the last 13 years: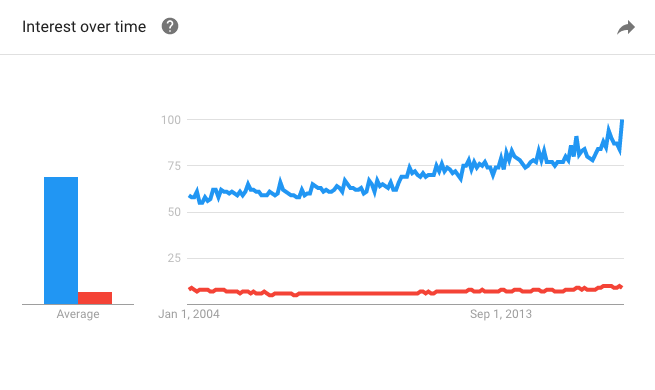 It seems nat­ur­al usage increas­ing­ly favours whole over entire. Even though entire seems to be on the rise, it doesn't look like it will catch up with whole any time soon. In fact, giv­en how close the two are in mean­ing and the increase of whole in prac­ti­cal usage, we might see the extinc­tion of entire from our every­day lan­guage, being reserved for tech­ni­cal uses (such as, botan­i­cal entire, mean­ing a leaf with­out an indent­ed edge, or farm­ing entire, mean­ing uncas­trat­ed).
Which words do you con­fuse? Let me know in the com­ments below.
Inter­est­ed in more gram­mar tips like this? Sign up for our free month­ly newslet­ter.
I am a copy­writer and copy­ed­i­tor. I blog on writ­ing tips most­ly, but I some­times throw in my thoughts about run­ning a small busi­ness. Fol­low me on Twit­ter at @hotpepper.